Welcome to Lepoma's Pizzeria
At Lepoma's, your neighborhood pizzeria, we cook our pizzas in the old Italian tradition by hand-stretching our homemade dough and baking it in a brick oven at 600 degrees. We use 100% whole milk mozzarella with a kiss of buffalo milk, fresh vegetables from the farmers' market, premium meats, and fresh-packed tomatoes for our homemade sauce to give you true authentic flavors and quality. From our family to yours, The Lepoma's.
The Grand Central
Loaded with toppings, the Grand Central is one of our most popular pies.
Your Neighborhood Pizzaeria
About Lepoma's Pizzeria
Lepoma's Pizzeria was founded in 2015 by Anthony and Carrie Lepoma. Originating from Alimena Sicily, the Li Puma's landed in New York and New Orleans. Like many immigrant families they moved around to pursue the American Dream. Eventually the name was changed to Lepoma, and they called Chicago home. Over time the cold weather became unbearable and they headed south to reunite with family in New Orleans and Misssissippi. The Lepoma's moved from the Mississippi Gulf Coast to Georgia for work in 2014. Inspired by the legendary cooking of our nonna, Maria "Mary" Maggio Lepoma, and a passion for Italian American culture the idea for Lepoma's Pizzeria was born.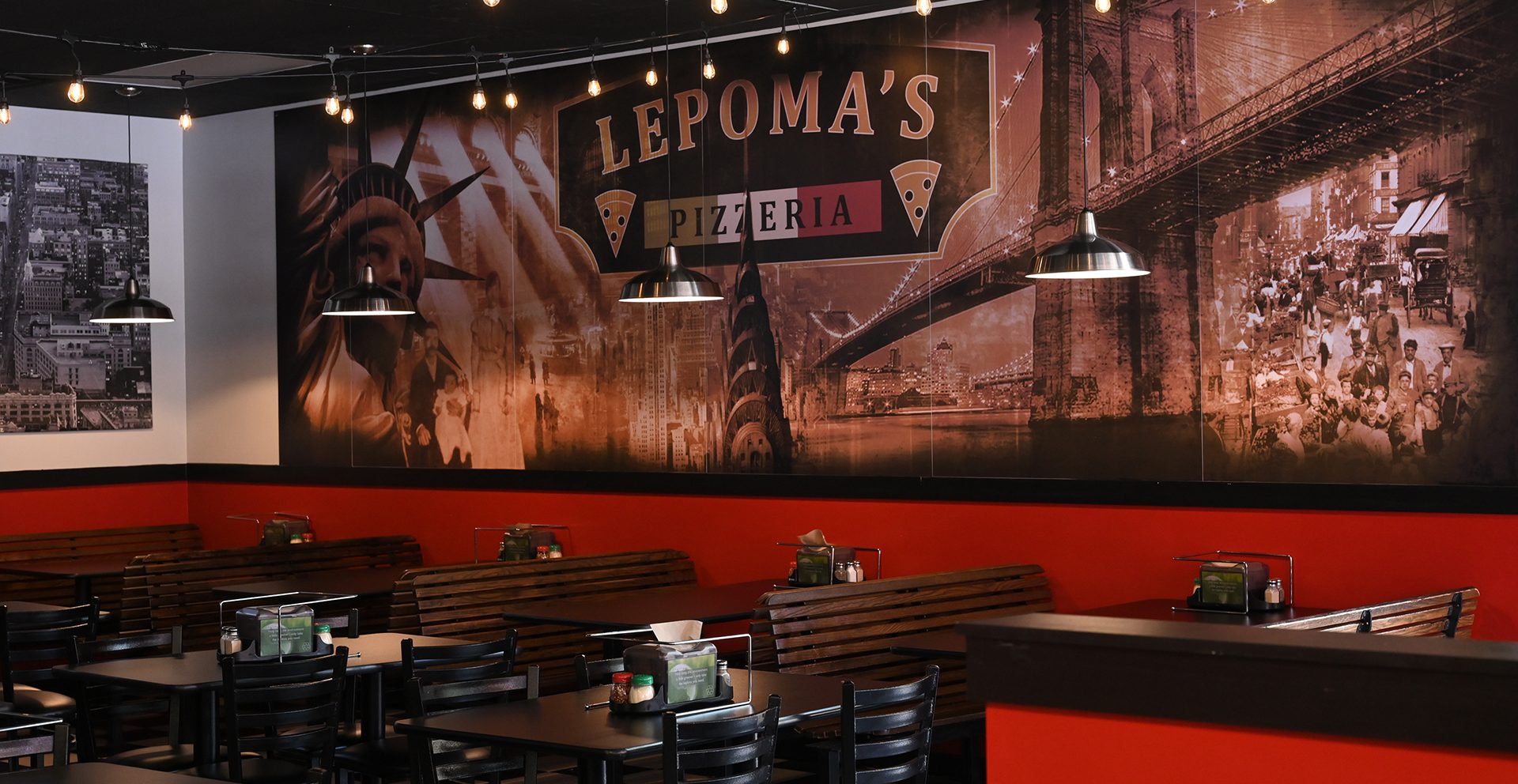 FRESH INGREDIENTS
We only use the

best ingrediants

for our pizza!

We make our dough and sauce from scratch using the highest quality ingredients. Our tomatoes are packed fresh to maintain optimum flavor. Our 100% whole milk mozzarella cheese is grated right off the block, and our vegetables are cut fresh daily to provide peak flavor.

Our menu
WHAT WE OFFER
A few items from our menu
Reserve our Party room
Party Room
"Reserve our party room for your next birthday party, family gathering, spirit night or team event"

We have a party rooms at our Sharpsburg and Columbus locations. The room is FREE of charge, and available for two hour increments. Please contact us for more details and availability.
Birthdays
We offer a "Make Your Own Pizza" birthday party where each child gets a tour of the kitchen, a pizza making lesson, and get to make their own pizza. Kids love it, reserve your birthday today!
Special Events
Reserve for groups of all kinds: Spirit Nights, Team Dinners, Fundraisers, Field Trips, Youth Groups, Biker Groups, Drafts, Trivia Night etc. If you need to space to meet, we'd love host you. Bring your appetite!
Family Gatherings
Reserve for surprise parties, anniversaries, retirement celebrations, reunions, and more.
OUR AWESOME CLIENTS
Pizza Testimonials
Don't take our word for it – here's what our clients say:
Family run by people who know how to make pizza. It starts with the crust and they are REALLY good at it. They are friendly and always make sure you are happy with what you receive.
Robyn C.
Smyrna, Ga.
Great pizza, great environment every time i've gone here. I LOVE their sauce. It's a very cute little place to eat, and I love supporting my local businesses. Customer service is on point.
Jessica M.
Atlanta, Ga
Good pizza , family oriented atmosphere. Alternate to the traditional delivery pizza places.
Kelly H.
Newnan, Ga.
Counters
With the Internet spreading linke wildfire and reaching every part of our daily life, more and more traffic is directed to websites in search for information.
Mozzarella Used
Pizza's Made
Happy Customers
Opprtunities
Lepoma's Franchise
"Coming Soon!"

Note: This web site is not a franchise offering. A franchise offering can be made by us in a state only if we are first registered, excluded, exempted or otherwise qualified to offer franchises in that state, and only if we provide you with an appropriate franchise disclosure document. Follow-up or individualized responses to you that involve either effecting or attempting to effect the sale of a franchise will be made only if we are first in compliance with state registration requirements, or are covered by an applicable state exclusion or exemption.
How it Works
FAQ
Benifits
Our Lepoma Pizzeria Locations
Sharpsburg, GA HWY 34. Next to Thomas Crossroads Elementary.
Midland, Ga, 6516 Kitten Lake Dr. Next to Moe's and Subway
Columbus, Ga, 7590 Schomburg Rd. Next to Bruster's and Publix
Lepoma's Pizza – Sharpsburg, GA HWY 34.
Address:
3500 GA-34, Sharpsburg, GA 30277
Address:
6855 Ga-16, Senoia, Ga 30276
Midland Ga / 6516 Kitten Lake Dr
Address:
6516 Kitten Lake Drive, Midland, GA